Detroit REMAN DT12 2020
DTNA Parts is proud to announce the launch and availability of the Detroit REMAN offering of the DT12 2020. 
This Premier offering has been released to the DTNA Network to offer our customers a cost effective solution to get them on the road with reduced down time.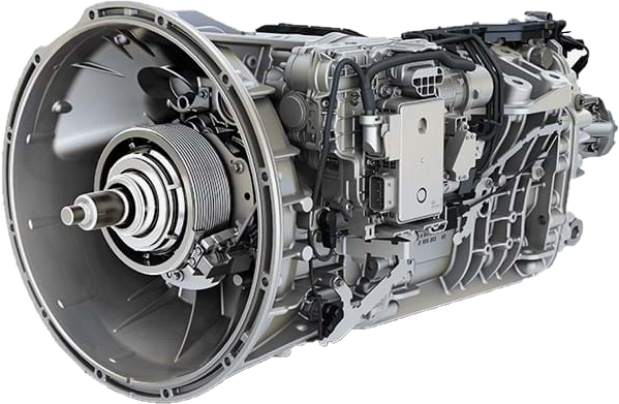 Features & Benefits
Core Receiving and Inspection
All incoming core is 100% torn down and inspected. 
All transmission components are 100% inspected and measured against OEM specification.
Consumable and wear items (i.e. Bearings & Seals) are replaced 100%.
Assembly components are measured & gauged using CMM / Air Gauging / Electronic Measurements.
Transmission assembly is conduction in a control production environment that modeled from the Detroit OEM process. 
Standards and Best Practices have been adapted and implemented from the Detroit Production Environment.
Quality Control and product auditing is standard practice with the REMAN Assembly Environment.
100% of all assembled transmissions are subject to End of Line (EOL) Dynamometer Test.
Transmission dynamometer testing is conducted in similar fashion to the Detroit Process. 
All transmissions are subjected to Speed / Load testing that is representative to over the road conditions.
All forward and reverse gears are functionally tested and verified. 
NVH Measurements are conducted to ensure assembly of the transmission is correct. 
Oil and Pneumatic Circuits are pressure tested and operational verified. 
All test results are captured and stored for Quality Control purposes. 
All REMAN DT12 2020's are proudly manufactured in the USA and are available with the DTNA PDC Network.
Top Movers - REMAN DT12 2020
| DTNA GENUINE P/N | DETROIT REMAN P/N | ALLIANCE P/N | MODEL INFORMATION | DESCRIPTION |
| --- | --- | --- | --- | --- |
| C07-00052-000 | DGT DT12-DB1NS-01R | ABP R26 DB1NS 01R | TCM-CLASSIC-OLD | DGT DT12-DB W/O COOLER |
| C07-00052-001 | DGT DT12-DA1CS-01R | ABP R26 DA1CS 01R | TCM-CLASSIC-OLD | DGT DT12-DA W/ COOLER |
| C07-00052-003 | DGT DT12-DA1NS-01R | ABP R26 DA1NS 01R | TCM-CLASSIC-OLD | DGT DT12-DA W/O COOLER |
| C07-00052-004 | DGT DT12-OA1CS-01R | ABP R26 OA1CS 01R | TCM-CLASSIC-OLD | DGT DT12-OA W/ COOLER |
| C07-00052-005 | DGT DT12-OA1CD-01R | ABP R26 OA1CD 01R | TCM-CLASSIC-OLD | DGT DT12-OA W/ COOLER & DBL CLUTCH |
| C07-00052-039 | DGT DT12-OB1CS-01R | ABP R26 OB1CS 01R | TCM-CLASSIC-OLD | DGT DT12-OB W/ COOLER |
| C07-00052-041 | DGT DT12-DA1NS-01R | ABP R26 DA1NS 01R | TCM-CLASSIC-OLD | DGT DT12-DA W/O COOLER |
| C07-00052-043 | DGT DT12-DA1CS-01R | ABP R26 DA1CS 01R | TCM-CLASSIC-OLD | DGT DT12-DA W/ COOLER |
| C07-00052-044 | DGT DT12-OA1CD-01R | ABP R26 OA1CD 01R | TCM-CLASSIC-OLD | DGT DT12-OA W/ COOLER & DBL CLUTCH |
| C07-00052-045 | DGT DT12-DB1CS-01R | ABP R26 DB1CS 01R | TCM-CLASSIC-OLD | DGT DT12-DB W/ COOLER |
| C07-00052-047 | DGT DT12-OA1CS-01R | ABP R26 OA1CS 01R | TCM-CLASSIC-OLD | DGT DT12-OA W/ COOLER |
| C07-00052-048 | DGT DT12-OA1CS-01R | ABP R26 OA1CS 01R | TCM-CLASSIC-OLD | DGT DT12-OA W/ COOLER |
| C07-00052-049 | DGT DT12-DA1NS-01R | ABP R26 DA1NS 01R | TCM-CLASSIC-OLD | DGT DT12-DA W/O COOLER |
| C07-00052-050 | DGT DT12-DA1CS-01R | ABP R26 DA1CS 01R | TCM-CLASSIC-OLD | DGT DT12-DA W/ COOLER |
| C07-00052-051 | DGT DT12-DB1NS-01R | ABP R26 DB1NS 01R | TCM-CLASSIC-OLD | DGT DT12-DB W/O COOLER |
| C07-00052-052 | DGT DT12-DA2CS-01R | | TCNG-CO2-OLD | DGT DT12-DA W/ COOLER |
| C07-00052-053 | DGT DT12-OA2CS-01R | | TCNG-CO2-OLD | DGT DT12-OA W/ COOLER |
| C07-00052-054 | DGT DT12-OA1CS-01R | ABP R26 OA1CS 01R | TCM-CLASSIC-OLD | DGT DT12-OA W/ COOLER |
| C07-00052-055 | DGT DT12-OA1CD-01R | ABP R26 OA1CD 01R | TCM-CLASSIC-OLD | DGT DT12-OA W/ COOLER & DBL CLUTCH |
| C07-00052-056 | DGT DT12-OB1CS-01R | ABP R26 OB1CS 01R | TCM-CLASSIC-OLD | DGT DT12-OB W/ COOLER |
| C07-00052-057 | DGT DT12-DB2NS-01R | | TCNG-CO2-OLD | DGT DT12-DB W/O COOLER |
| C07-00052-058 | DGT DT12-OB2CS-01R | | TCNG-CO2-OLD | DGT DT12-OB W/ COOLER |
| C07-00052-059 | DGT DT12-DA2NS-01R | | TCNG-CO2-OLD | DGT DT12-DA W/O COOLER |
| C07-00052-060 | DGT DT12-DA1NS-01R | ABP R26 DA1NS 01R | TCM-CLASSIC-OLD | DGT DT12-DA W/O COOLER |
| C07-00052-061 | DGT DT12-DA2NS-01R | | TCNG-CO2-OLD | DGT DT12-DA W/O COOLER |
| C07-00052-062 | DGT DT12-OA2CD-01R | | TCNG-CO2-OLD | DGT DT12-OA W/ COOLER & DBL CLUTCH |
| C07-00052-063 | DGT DT12-DA1CS-01R | ABP R26 DA1CS 01R | TCM-CLASSIC-OLD | DGT DT12-DA W/ COOLER |
| C07-00052-064 | DGT DT12-DB1CS-01R | ABP R26 DB1CS 01R | TCM-CLASSIC-OLD | DGT DT12-DB W/ COOLER |
| C07-00052-065 | DGT DT12-OA1CS-01R | ABP R26 OA1CS 01R | TCM-CLASSIC-OLD | DGT DT12-OA W/ COOLER |
| C07-00052-070 | DGT DT12-DA2CS-01R | | TCNG-CO2-OLD | DGT DT12-DA W/ COOLER |
| C07-00052-071 | DGT DT12-DB1NS-01R | ABP R26 DB1NS 01R | TCM-CLASSIC-OLD | DGT DT12-DB W/O COOLER |
| C07-00052-072 | DGT DT12-DB1CS-01R | ABP R26 DB1CS 01R | TCM-CLASSIC-OLD | DGT DT12-DB W/ COOLER |
| C07-00052-073 | DGT DT12-OB1CS-01R | ABP R26 OB1CS 01R | TCM-CLASSIC-OLD | DGT DT12-OB W/ COOLER |
| C07-00052-074 | DGT DT12-DB2CS-01R | | TCNG-CO2-OLD | DGT DT12-DB W/ COOLER |
| C07-00052-075 | DGT DT12-OA2CS-01R | | TCNG-CO2-OLD | DGT DT12-OA W/ COOLER |
| C07-00052-077 | DGT DT12-DA1CS-01R | ABP R26 DA1CS 01R | TCM-CLASSIC-OLD | DGT DT12-DA W/ COOLER |
| C07-00052-078 | DGT DT12-OB1CS-01R | ABP R26 OB1CS 01R | TCM-CLASSIC-OLD | DGT DT12-OB W/ COOLER |
| C07-00052-079 | DGT DT12-DA1CS-01R | ABP R26 DA1CS 01R | TCM-CLASSIC-OLD | DGT DT12-DA W/ COOLER |
| C07-00052-080 | DGT DT12-OA1CS-01R | ABP R26 OA1CS 01R | TCM-CLASSIC-OLD | DGT DT12-OA W/ COOLER |
| C07-00052-081 | DGT DT12-DA1CS-01R | ABP R26 DA1CS 01R | TCM-CLASSIC-OLD | DGT DT12-DA W/ COOLER |
| C07-00052-082 | DGT DT12-DB2NS-01R | | TCNG-CO2-OLD | DGT DT12-DB W/O COOLER |
| C07-00052-083 | DGT DT12-DA2CS-01R | | TCNG-CO2-OLD | DGT DT12-DA W/ COOLER |
| C07-00052-084 | DGT DT12-DB1CS-01R | ABP R26 DB1CS 01R | TCM-CLASSIC-OLD | DGT DT12-DB W/ COOLER |
| C07-00052-085 | DGT DT12-OA1CD-01R | ABP R26 OA1CD 01R | TCM-CLASSIC-OLD | DGT DT12-OA W/ COOLER & DBL CLUTCH |
| C07-00052-086 | DGT DT12-OA1CD-01R | ABP R26 OA1CD 01R | TCM-CLASSIC-OLD | DGT DT12-OA W/ COOLER & DBL CLUTCH |
| C07-00052-087 | DGT DT12-DB1NS-01R | ABP R26 DB1NS 01R | TCM-CLASSIC-OLD | DGT DT12-DB W/O COOLER |
| C07-00052-088 | DGT DT12-OA2CD-01R | | TCNG-CO2-OLD | DGT DT12-OA W/ COOLER & DBL CLUTCH |
| C07-00052-090 | DGT DT12-OA2CS-01R | | TCNG-CO2-OLD | DGT DT12-OA W/ COOLER |
| C07-00052-091 | DGT DT12-DA2CS-01R | | TCNG-CO2-OLD | DGT DT12-DA W/ COOLER |
| C07-00052-092 | DGT DT12-DA2CS-01R | | TCNG-CO2-OLD | DGT DT12-DA W/ COOLER |
| C07-00052-093 | DGT DT12-DA2NS-01R | | TCNG-CO2-OLD | DGT DT12-DA W/O COOLER |
| C07-00052-094 | DGT DT12-DA3CS-01R | | TCNG-CO2 2017 DS | DGT DT12-DA W/ COOLER |
| C07-00052-095 | DGT DT12-OA3CD-01R | | TCNG-CO2 2017 DS | DGT DT12-OA W/ COOLER & DBL CLUTCH |
| C07-00052-096 | DGT DT12-DA2NS-01R | | TCNG-CO2-OLD | DGT DT12-DA W/O COOLER |
| C07-00052-097 | DGT DT12-OB2CS-01R | | TCNG-CO2-OLD | DGT DT12-OB W/ COOLER |
| C07-00052-098 | DGT DT12-DB2NS-01R | | TCNG-CO2-OLD | DGT DT12-DB W/O COOLER |
| C07-00052-099 | DGT DT12-OA2CD-01R | | TCNG-CO2-OLD | DGT DT12-OA W/ COOLER & DBL CLUTCH |
| C07-00052-100 | DGT DT12-OA3CS-01R | | TCNG-CO2 2017 DS | DGT DT12-OA W/ COOLER |
| C07-00052-101 | DGT DT12-OA2CD-01R | | TCNG-CO2-OLD | DGT DT12-OA W/ COOLER & DBL CLUTCH |
| C07-00052-102 | DGT DT12-OA2CS-01R | | TCNG-CO2-OLD | DGT DT12-OA W/ COOLER |
| C07-00052-103 | DGT DT12-OB2CS-01R | | TCNG-CO2-OLD | DGT DT12-OB W/ COOLER |
| C07-00052-104 | DGT DT12-OB1CS-01R | ABP R26 OB1CS 01R | TCM-CLASSIC-OLD | DGT DT12-OB W/ COOLER |
| C07-00052-105 | DGT DT12-OA2CD-01R | | TCNG-CO2-OLD | DGT DT12-OA W/ COOLER & DBL CLUTCH |
| C07-00052-106 | DGT DT12-OA2CS-01R | | TCNG-CO2-OLD | DGT DT12-OA W/ COOLER |
| C07-00052-107 | DGT DT12-DA2CS-01R | | TCNG-CO2-OLD | DGT DT12-DA W/ COOLER |
| C07-00052-108 | DGT DT12-OA1CD-01R | ABP R26 OA1CD 01R | TCM-CLASSIC-OLD | DGT DT12-OA W/ COOLER & DBL CLUTCH |
| C07-00052-109 | DGT DT12-DA2CS-01R | | TCNG-CO2-OLD | DGT DT12-DA W/ COOLER |
| C07-00052-110 | DGT DT12-OA3CD-01R | | TCNG-CO2 2017 DS | DGT DT12-OA W/ COOLER & DBL CLUTCH |
| C07-00052-111 | DGT DT12-OA2CD-01R | | TCNG-CO2-OLD | DGT DT12-OA W/ COOLER & DBL CLUTCH |
| C07-00052-112 | DGT DT12-DB2NS-01R | | TCNG-CO2-OLD | DGT DT12-DB W/O COOLER |
| C07-00052-113 | DGT DT12-OA3CS-01R | | TCNG-CO2 2017 DS | DGT DT12-OA W/ COOLER |
| C07-00052-114 | DGT DT12-DB2CS-01R | | TCNG-CO2-OLD | DGT DT12-DB W/ COOLER |
| C07-00052-115 | DGT DT12-DB2CS-01R | | TCNG-CO2-OLD | DGT DT12-DB W/ COOLER |
| C07-00052-116 | DGT DT12-DA3CS-01R | | TCNG-CO2 2017 DS | DGT DT12-DA W/ COOLER |
| C07-00052-117 | DGT DT12-DA3CS-01R | | TCNG-CO2 2017 DS | DGT DT12-DA W/ COOLER |
| C07-00052-118 | DGT DT12-OA3CD-01R | | TCNG-CO2 2017 DS | DGT DT12-OA W/ COOLER & DBL CLUTCH |
| C07-00052-119 | DGT DT12-OB2CS-01R | | TCNG-CO2-OLD | DGT DT12-OB W/ COOLER |
| C07-00052-120 | DGT DT12-OA2CS-01R | | TCNG-CO2-OLD | DGT DT12-OA W/ COOLER |
| C07-00052-121 | DGT DT12-DB2CS-01R | | TCNG-CO2-OLD | DGT DT12-DB W/ COOLER |
| C07-00052-122 | DGT DT12-OD4CD-01R | | TM2020 - w/ Oil Press Sensor | DGT DT12-OD W/ COOLER & DBL CLUTCH |
| C07-00052-123 | DGT DT12-OC4CD-01R | | TM2020 - w/ Oil Press Sensor | DGT DT12-OC W/ COOLER & DBL CLUTCH |
| C07-00052-124 | DGT DT12-OC4CD-01R | | TM2020 - w/ Oil Press Sensor | DGT DT12-OC W/ COOLER & DBL CLUTCH |
| C07-00052-125 | DGT DT12-DC4CG-01R | | TM2020 | DGT DT12-DC W/ COOLER - Gen 5 Clutch |
| C07-00052-126 | DGT DT12-DC4CG-01R | | TM2020 | DGT DT12-DC W/ COOLER - Gen 5 Clutch |
| C07-00052-127 | DGT DT12-OD4CD-01R | | TM2020 - w/ Oil Press Sensor | DGT DT12-OD W/ COOLER & DBL CLUTCH |
| C07-00052-128 | DGT DT12-OC4CG-01R | | TM2020 | DGT DT12-OC W/COOLER & GEN V CLUTCH |
| C07-00052-129 | DGT DT12-OB2CS-01R | | TCNG-CO2-OLD | DGT DT12-OB W/ COOLER |
| C07-00052-130 | DGT DT12-DA2CS-01R | | TCNG-CO2-OLD | DGT DT12-DA W/ COOLER |
| C07-00052-131 | DGT DT12-OA2CS-01R | | TCNG-CO2-OLD | DGT DT12-OA W/ COOLER |
| C07-00052-132 | DGT DT12-OA2CD-01R | | TCNG-CO2-OLD | DGT DT12-OA W/ COOLER & DBL CLUTCH |
| C07-00052-133 | DGT DT12-DC4CG-01R | | TM2020 | DGT DT12-DC W/ COOLER - Gen 5 Clutch |
| C07-00052-134 | DGT DT12-DA2CS-01R | | TCNG-CO2-OLD | DGT DT12-DA W/ COOLER |
| C07-00052-135 | DGT DT12-OB2CS-01R | | TCNG-CO2-OLD | DGT DT12-OB W/ COOLER |
| C07-00052-136 | DGT DT12-OA3CD-01R | | TCNG-CO2 2017 DS | DGT DT12-OA W/ COOLER & DBL CLUTCH |
| C07-00052-137 | DGT DT12-OC4CD-01R | | TM2020 - w/ Oil Press Sensor | DGT DT12-OC W/ COOLER & DBL CLUTCH |
| C07-00052-138 | DGT DT12-OC4CD-01R | | TM2020 - w/ Oil Press Sensor | DGT DT12-OC W/ COOLER & DBL CLUTCH |
| C07-00052-139 | DGT DT12-OA3CS-01R | | TCNG-CO2 2017 DS | DGT DT12-OA W/ COOLER |
| C07-00052-140 | DGT DT12-OC4CG-01R | | TM2020 | DGT DT12-OC W/COOLER & GEN V CLUTCH |
| C07-00052-141 | DGT DT12-OA2CS-01R | | TCNG-CO2-OLD | DGT DT12-OA W/ COOLER |
| C07-00052-142 | DGT DT12-OC4CG-01R | | TM2020 | DGT DT12-OC W/COOLER & GEN V CLUTCH |
| C07-00052-143 | DGT DT12-OD4CD-01R | | TM2020 - w/ Oil Press Sensor | DGT DT12-OD W/ COOLER & DBL CLUTCH |
| C07-00052-144 | DGT DT12-OD4CD-01R | | TM2020 - w/ Oil Press Sensor | DGT DT12-OD W/ COOLER & DBL CLUTCH |
| C07-00052-145 | DGT DT12-OA3CD-01R | | TCNG-CO2 2017 DS | DGT DT12-OA W/ COOLER & DBL CLUTCH |
| C07-00052-146 | DGT DT12-OC4CG-01R | | TM2020 | DGT DT12-OC W/COOLER & GEN V CLUTCH |
| C07-00052-147 | DGT DT12-OC4CG-01R | | TM2020 | DGT DT12-OC W/COOLER & GEN V CLUTCH |
| C07-00052-148 | DGT DT12-OC4CD-01R | | TM2020 - w/ Oil Press Sensor | DGT DT12-OC W/ COOLER & DBL CLUTCH |
| C07-00052-149 | DGT DT12-OA3CD-01R | | TCNG-CO2 2017 DS | DGT DT12-OA W/ COOLER & DBL CLUTCH |
| C07-00052-150 | DGT DT12-OD4CN-01R | | TM2020 | DGT DT12-OD W/ COOLER & GEN V CLUTCH |
| C07-00052-151 | DGT DT12-OD4CN-01R | | TM2020 | DGT DT12-OD W/ COOLER & GEN V CLUTCH |
| C07-00052-152 | DGT DT12-OD4CN-01R | | TM2020 | DGT DT12-OD W/ COOLER & GEN V CLUTCH |
| C07-00052-153 | DGT DT12-OD4CD-01R | | TM2020 - w/ Oil Press Sensor | DGT DT12-OD W/ COOLER & DBL CLUTCH |
| C07-00052-154 | DGT DT12-OD4CN-01R | | TM2020 | DGT DT12-OD W/ COOLER & GEN V CLUTCH |
| C07-00052-155 | DGT DT12-OD4CN-01R | | TM2020 | DGT DT12-OD W/ COOLER & GEN V CLUTCH |
| C07-00052-156 | DGT DT12-OD4CD-01R | | TM2020 - w/ Oil Press Sensor | DGT DT12-OD W/ COOLER & DBL CLUTCH |
| C07-00052-157 | DGT DT12-OD4CN-01R | | TM2020 | DGT DT12-OD W/ COOLER & GEN V CLUTCH |
| C07-00052-158 | DGT DT12-OC4CD-01R | | TM2020 - w/ Oil Press Sensor | DGT DT12-OC W/ COOLER & DBL CLUTCH |
| C07-00052-159 | DGT DT12-OA2CD-01R | | TCNG-CO2-OLD | DGT DT12-OA W/ COOLER & DBL CLUTCH |
| C07-00052-165 | DGT DT12-DC4CG-01R | | TM2020 | DGT DT12-DC W/ COOLER - Gen 5 Clutch |
| C07-00052-169 | DGT DT12-DC4NG-01R | | TM2020 | DGT DT12 D-DRV C - W//O CLR, Gen 5 CLTCH |
| C07-00052-170 | DGT DT12-DC4NG-01R | | TM2020 | DGT DT12 D-DRV C - W//O CLR, Gen 5 CLTCH |
| C07-00052-171 | DGT DT12-OC4CG-01R | | TM2020 | DGT DT12-OC W/COOLER & GEN V CLUTCH |
| C07-00052-174 | DGT DT12-DC4CG-01R | | TM2020 | DGT DT12-DC W/ COOLER - Gen 5 Clutch |
| C07-00052-188 | DGT DT12-DC4NG-01R | | TM2020 | DGT DT12 D-DRV C - W//O CLR, Gen 5 CLTCH |
| C07-00052-189 | DGT DT12-OC4CD-01R | | TM2020 - w/ Oil Press Sensor | DGT DT12-OC W/ COOLER & DBL CLUTCH |
| C07-00052-190 | DGT DT12-OC4CG-01R | | TM2020 | DGT DT12-OC W/COOLER & GEN V CLUTCH |
| C07-00052-191 | DGT DT12-DC4CD-01R | | TM2020 | DGT DT12-DC W/COOLER - Dual Clutch |
| C07-00052-192 | DGT DT12-OC4CS-01R | | TM2020 - w/ Oil Press Sensor | DGT DT12-OC W/ COOLER |
| C07-00052-193 | DGT DT12-DC4NS-01R | | TM2020 | DGT DT12-DC W/O Cooler - CS 180 |
| C07-00052-194 | DGT DT12-OC4CS-01R | | TM2020 - w/ Oil Press Sensor | DGT DT12-OC W/ COOLER |
| C07-00052-195 | DGT DT12-DC4CS-01R | | TM2020 | DGT DT12-DC W/ COOLER - Yoke |
| C07-00052-196 | DGT DT12-OC4CS-01R | | TM2020 - w/ Oil Press Sensor | DGT DT12-OC W/ COOLER |
| C07-00052-198 | DGT DT12-DC4CG-01R | | TM2020 | DGT DT12-DC W/ COOLER - Gen 5 Clutch |
| C07-00052-199 | DGT DT12-OC4CD-01R | | TM2020 - w/ Oil Press Sensor | DGT DT12-OC W/ COOLER & DBL CLUTCH |
| C07-00052-200 | DGT DT12-OC4CG-01R | | TM2020 | DGT DT12-OC W/COOLER & GEN V CLUTCH |
| C07-00052-201 | DGT DT12-DC4CG-01R | | TM2020 | DGT DT12-DC W/ COOLER - Gen 5 Clutch |
| C07-00052-202 | DGT DT12-OC4CG-01R | | TM2020 | DGT DT12-OC W/COOLER & GEN V CLUTCH |
| C07-00052-203 | DGT DT12-OC4CG-01R | | TM2020 | DGT DT12-OC W/COOLER & GEN V CLUTCH |
| C07-00052-204 | DGT DT12-OC4CD-01R | | TM2020 - w/ Oil Press Sensor | DGT DT12-OC W/ COOLER & DBL CLUTCH |
| C07-00052-205 | DGT DT12-OD4CD-01R | | TM2020 - w/ Oil Press Sensor | DGT DT12-OD W/ COOLER & DBL CLUTCH |
| C07-00052-206 | DGT DT12-OC4CS-01R | | TM2020 - w/ Oil Press Sensor | DGT DT12-OC W/ COOLER |
| C07-00052-207 | DGT DT12-DC4NS-01R | | TM2020 | DGT DT12-DC W/O Cooler - CS 180 |
| C07-00052-208 | DGT DT12-OC4CS-01R | | TM2020 - w/ Oil Press Sensor | DGT DT12-OC W/ COOLER |
| C07-00052-209 | DGT DT12-OC4CG-01R | | TM2020 | DGT DT12-OC W/COOLER & GEN V CLUTCH |
| C07-00052-210 | DGT DT12-OD4CD-01R | | TM2020 - w/ Oil Press Sensor | DGT DT12-OD W/ COOLER & DBL CLUTCH |
| C07-00052-211 | DGT DT12-DC4CD-01R | | TM2020 | DGT DT12-DC W/COOLER - Dual Clutch |
| C07-00052-212 | DGT DT12-OC4CD-01R | | TM2020 - w/ Oil Press Sensor | DGT DT12-OC W/ COOLER & DBL CLUTCH |
| C07-00052-213 | DGT DT12-OC4CD-01R | | TM2020 - w/ Oil Press Sensor | DGT DT12-OC W/ COOLER & DBL CLUTCH |
| C07-00052-214 | DGT DT12-OC4CS-01R | | TM2020 - w/ Oil Press Sensor | DGT DT12-OC W/ COOLER |
| C07-00052-215 | DGT DT12-DC4CG-01R | | TM2020 | DGT DT12-DC W/ COOLER - Gen 5 Clutch |
| C07-00052-216 | DGT DT12-OC4CS-01R | | TM2020 - w/ Oil Press Sensor | DGT DT12-OC W/ COOLER |
| C07-00052-217 | DGT DT12-DC4NG-01R | | TM2020 | DGT DT12 D-DRV C - W//O CLR, Gen 5 CLTCH |
| C07-00052-218 | DGT DT12-OC4CS-01R | | TM2020 - w/ Oil Press Sensor | DGT DT12-OC W/ COOLER |
| C07-00052-219 | DGT DT12-OC4CD-01R | | TM2020 - w/ Oil Press Sensor | DGT DT12-OC W/ COOLER & DBL CLUTCH |
| C07-00052-220 | DGT DT12-DC4CS-01R | | TM2020 | DGT DT12-DC W/ COOLER - Yoke |
| C07-00052-221 | DGT DT12-OD4CD-01R | | TM2020 - w/ Oil Press Sensor | DGT DT12-OD W/ COOLER & DBL CLUTCH |
| C07-00052-222 | DGT DT12-OD4CD-01R | | TM2020 - w/ Oil Press Sensor | DGT DT12-OD W/ COOLER & DBL CLUTCH |
| C07-00052-223 | DGT DT12-OC4CS-01R | | TM2020 - w/ Oil Press Sensor | DGT DT12-OC W/ COOLER |
| C07-00052-224 | DGT DT12-DC4CG-01R | | TM2020 | DGT DT12-DC W/ COOLER - Gen 5 Clutch |
| C07-00052-225 | DGT DT12-OC4CS-01R | | TM2020 - w/ Oil Press Sensor | DGT DT12-OC W/ COOLER |
| C07-00052-227 | DGT DT12-OD4CN-01R | | TM2020 | DGT DT12-OD W/ COOLER & GEN V CLUTCH |
| C07-00052-228 | DGT DT12-OC4CS-01R | | TM2020 - w/ Oil Press Sensor | DGT DT12-OC W/ COOLER |
| C07-00052-234 | DGT DT12-OD4CN-01R | | TM2020 | DGT DT12-OD W/ COOLER & GEN V CLUTCH |
| C07-00052-237 | DGT DT12-DC4CD-01R | | TM2020 | DGT DT12-DC W/COOLER - Dual Clutch |
| C07-00052-239 | DGT DT12-OC4CG-01R | | TM2020 | DGT DT12-OC W/COOLER & GEN V CLUTCH |
| C07-00052-263 | DGT DT12-DC4CG-01R | | TM2020 | DGT DT12-DC W/ COOLER - Gen 5 Clutch |
Warranty Information
All Transmissions are by the Detroit REMAN 1 Year / Unlimited Mile Warranty
Detroit REMAN DT12 TM2020 Sales Sheet
2023 DPC Alliance Clutch - Detroit REMAN DT12 Presentation