Goodyear Air Bags
As part of our continual effort to improve commercial trucking safety and performance, STEMCO® recently acquired Goodyear® Air Spring products, along with the Super-Cushion® and Spring-Ride® air bag components. These industry-leading air suspension products provide exceptional vibration isolation and durability, reducing driver fatigue, equipment wear and tear and maintenance costs. Constructed from lightweight, high-strength materials that provide a smoother ride and outlast the competition, Super-Cushion® Air Springs deliver on STEMCO's commitment to Making the Roadways Safer®.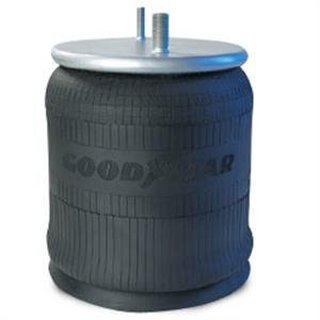 Product Highlights
Top Movers - Goodyear Air Bags
| Column1 | Column2 | Column3 |
| --- | --- | --- |
| PART NUMBER | DESCRIPTION | STYLE |
| GYR 1S5 040 | AIR SPRING ASSY-CAB,6 1/2IN X | SLEEVE |
| GYR 1S6 036 | AIR BAG - CAB AIR SUSP | SLEEVE |
| GYR 1R12 467 | AIR SPRING | ROLLING LOBE |
| GYR 1R12 432 | AIR SPRING | ROLLING LOBE |
| GYR 1R13 159 | AIR SPRING | SLEEVE |
| GYR 1S6 641 | AIR SPRING | SLEEVE |
| GYR 1S5 006 | CAB & SEAT AIR SPRING | SLEEVE |
| GYR 1R12 603 | AIR SPRING | ROLLING LOBE |
| GYR 1S5 038 | CAB AIR SPRING | SLEEVE |
| GYR 1R12 538 | AIR SPRING | ROLLING LOBE |
Ideal Applications
Ride springs for trucks, trailers and buses
Actuators and isolators for industrial applications
Key Benefits:
Reinforced design
Thicker bead plate design
Corrosion-preventative coatings
Superior ozone resistance
High temperature rated cab springs
Exceptional strength and performance
Lighter weight
Non-elongated bracket bimples
Ideal Applications
Ride springs for passenger cars and trucks
Isolators for truck cab suspensions
Seat springs and cab springs for trucks and buses
Actuators and isolators for industrial applications
Bellows Air Spring Styles.
Bellows air springs have one, two or three convolutions in a flexible member. There are two styles of bellows designs:
1. Crimped design bellows air springs feature an end retainer that is permanently attached to the air spring by crimping a retainer around the built-in bead wire of the flexible member, or bellow.
2. Sleeve style bellows offer similar characteristic to crimped design bellows, but the flexible member is constructed without internally molded bead wires, much like that of a rolling lobe bellow. The end retainers are permanently attached by pinching the flexible member between the end retainers and external crimp rings, which are then swaged to the proper diameter.
Of all of the different types of air springs, sleeve-type bellows air springs require the least amount of force to compress.
Ideal Applications
Lift springs for lift axles on trucks and trailers
Ride springs for trucks and trailers
Actuators and isolators for industrial applications
General Product Information
The Highest Quality Commercial Air Suspension Products.
Designed For Safety, Productivity And Long Life.
STEMCO Super Cushion® air springs give your trucks, trailers and buses a new high in safety, productivity and long life. Our rolling robe air springs provide constant-level hauling and deliver trouble-free service.
Improve Safety And Driver Comfort.
Super Cushion® air ride springs offer a quiet, cushioned ride that helps improve driver comfort by reducing fatigue, which keeps them more alert. On rough roads, vehicles with STEMCO Super Cushion® rolling lobe air bags bounce less than those with steel springs, helping drivers remain in control. Plus, cargo stays safer with improved protection from shock and vibration.
Reduce Downtime And Maintenance.
Constant vibrations transferred to a tractor, bus or trailer by steel springs can speed up wear to electrical components, lights, instruments, cabs, bodies, axles, transmissions, tire and all trailer hardware. Super Cushion® air springs isolate these vibrations to help keep vehicles out of the shop longer.
Better Clearance, Loading And Unloading.
When used with leveling valves, STEMCO Super Cushion® ride springs maintain consistent trim regardless of the load. This means clearance heights remain constant, and that trailer floors are flush with loading dock floors for ease of loading and unloading.
Warranty Information
STEMCO Inc. warrants to Buyer that all components sold will be free from defects in material and workmanship. This warranty is limited to components installed on vehicles licensed for on-highway use under normal use and service. This warranty extends for a period of one year from the date of manufacture.
The Buyer's exclusive remedy under this warranty shall be the repair or replacement of STEMCO components, but not the cost of removal or installation. STEMCO reserves the right to require that all warranty claim components are available and/or returned for review and evaluation. STEMCO shall not be liable for any claim, whether arising from breach of contract or warranty or claims of negligence or negligent manufacture, in excess of the purchase price. In no event shall STEMCO be liable for special, incidental, indirect, or consequential, or collateral, losses or damages of any kind.
This limited warranty is in lieu of all other warranties or conditions, expressed or implied, including any implied warranty of merchantability or fitness for particular purpose. This is the only warranty offered by STEMCO and no STEMCO employee or representative is authorized to extend additional warranty terms on behalf of STEMCO.