High quality chemical products to help maintain the vehicle performance and longevity, covering multiple commercial chemical products for popular direct OES applications DTNA and All-Makes
Program Information
Program includes 5 key groups:
     1. Brake Cleaners
     2. Functional Fluids
     3. Maintenance Products
     4. Industrial Aerosols
     5. Winter Products
Alliance Brake Cleaners quickly and effectively dissolves and removes grease, oil, brake fluid, and other contaminants from brakes, C.V. joints and clutch components. Superior cleaning power extends beyond brakes. Cleans and degreases brakes, rotors, drums, pads, shoes, wheel cylinders and parts. Help stop brake squeaking and can improve braking performance. Leaves no residue.
The ALLIANCE Brake Cleaners are available in High VOC, Low VOC, Non-Chlorinated and Chlorinated applications.  
Clean injectors to improve fuel economy
Enhance lubricity to prevent excessive wear
Prevent corrosion to protect engine components
ULSD compliant & Biodiesel compatible
One bottle treats 250 gallons. One bottle one truck. 
Alliance Foaming degreaser expands underneath and between engine components to remove unwanted road grime from your engine.
Expands Into Tight Areas
Removes heavy Dirt & Road Grime
Clings to Vertical Surfaces
Rinses Clean with Water
Alliance Cooling System Cleaner is specially formulated to remove oil, hydraulic and transmission fluid from heavy duty cooling systems. It disperses dropout, and helps remove silicate gel, scale, build-up and other deposits. Requires less flushing than other cleaners, Penray RTO Cooling System Cleaner will not harm seals and metals.
Alliance Multi-Purpose Degreasing Wipes are solvent-free, waterless cleaners that cut through the toughest grease, oil, tar, dirt, wax, ink, wet paint, lubricants, adhesive and scuffs. They are extremely versatile, and can be used for nearly any job, from cleaning tools, to wiping hands, to cleaning machinery. They can safely be used on many surfaces such as leather, vinyl, wood, metal, porcelain, counter tops, tile and walls. ALLIANCE Mult-Purpose Degreasing Wipes are also great for automotive, marine, RV and general home use.
These wipes are industrial strength, yet gentle on skin – fortified with an emollient, they won't crack or dry hands. Will not remove nail polish or car paint. The textured side of the fabric won't scratch surfaces and is ideal for scrubbing tough soils, while the smooth side wipes surfaces clean. The formula won't leave behind a residue, dries on its own, and leaves a pleasant citrus scent.
Alliance Battery Cleaner
Neutralizes acid and removes corrosion for maximum current flow
Helps produce positive electrical contact
Spray on, wipe off
Can be used on all types of batteries, cables, terminals, and anything subject to acid corrosion
After cleaning use ALLIANCE Battery Protector ABP N53 7011 to prevent future build-up and corrosion
Alliance Winter Fuel additive prevents ice crystal formation. Reduces cold filter plug point b as much as 30ºF. Helps enhance cetane. Helps improve fuel economy. Utilizes HAFI® technology. Improves cold weather starting. Stabilizes and prevents corrosion. Helps reduce emissions. Helps improve lubricity.
Utilizes HAFI®, a hybrid polymer technology to:

Prevent fuel gelling
Prevent wax crystal formation

Reduces cold filter plug point by as much as 30ºF
Contains cetane and restores fuel economy
Helps improve lubricity and prevent corrosion
Prevents ice crystal formation
ULSD compliant & Biodiesel compatible
Alliance Starting Fluid
Premium Starting Fluid designed for diesel engines
Produces quick, smooth starting of engines down to -70ºF
Works under extreme cold conditions
Contains upper cylinder lubricant and corrosion inhibitors
Saves battery and ignition during cold weather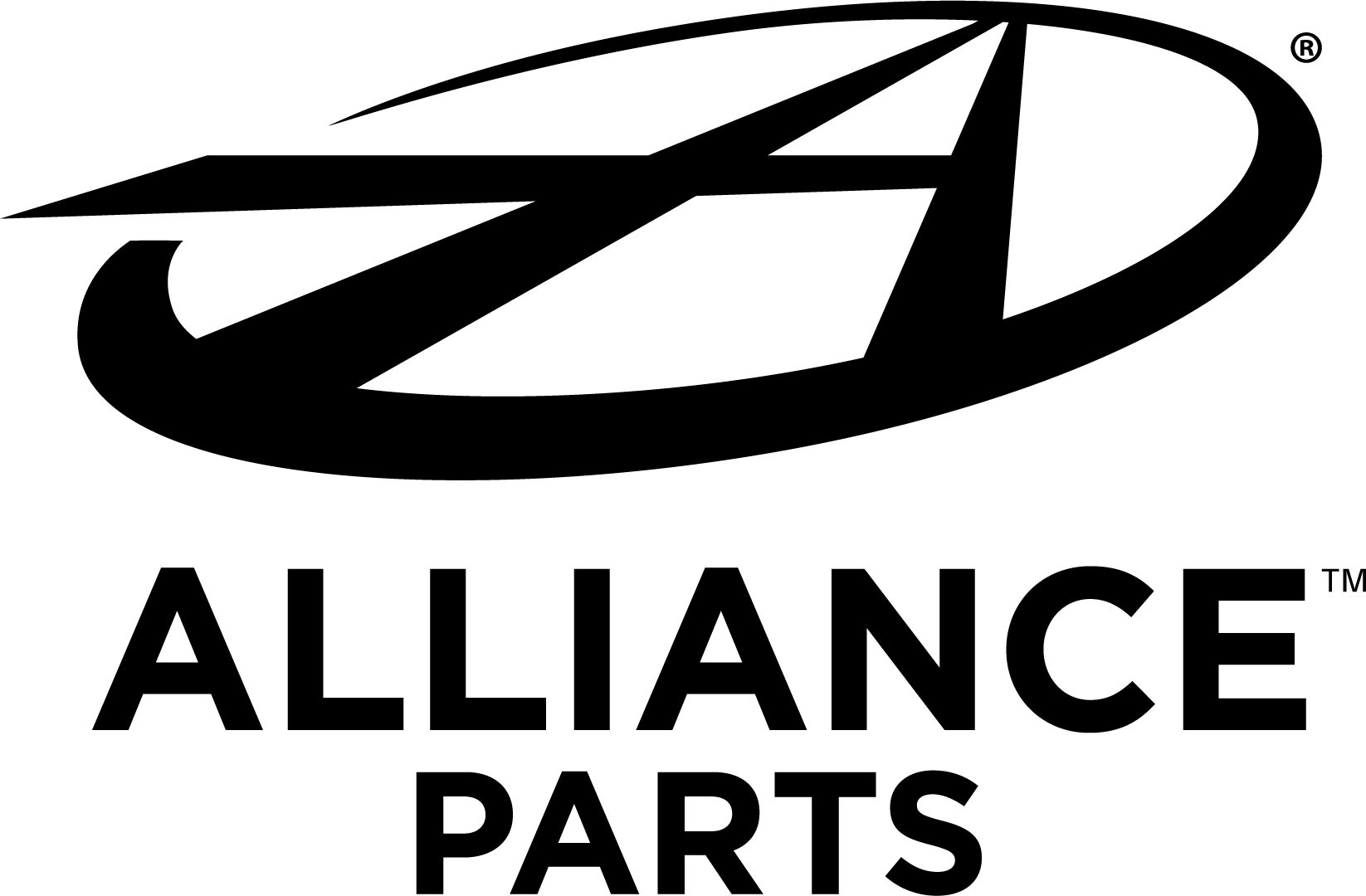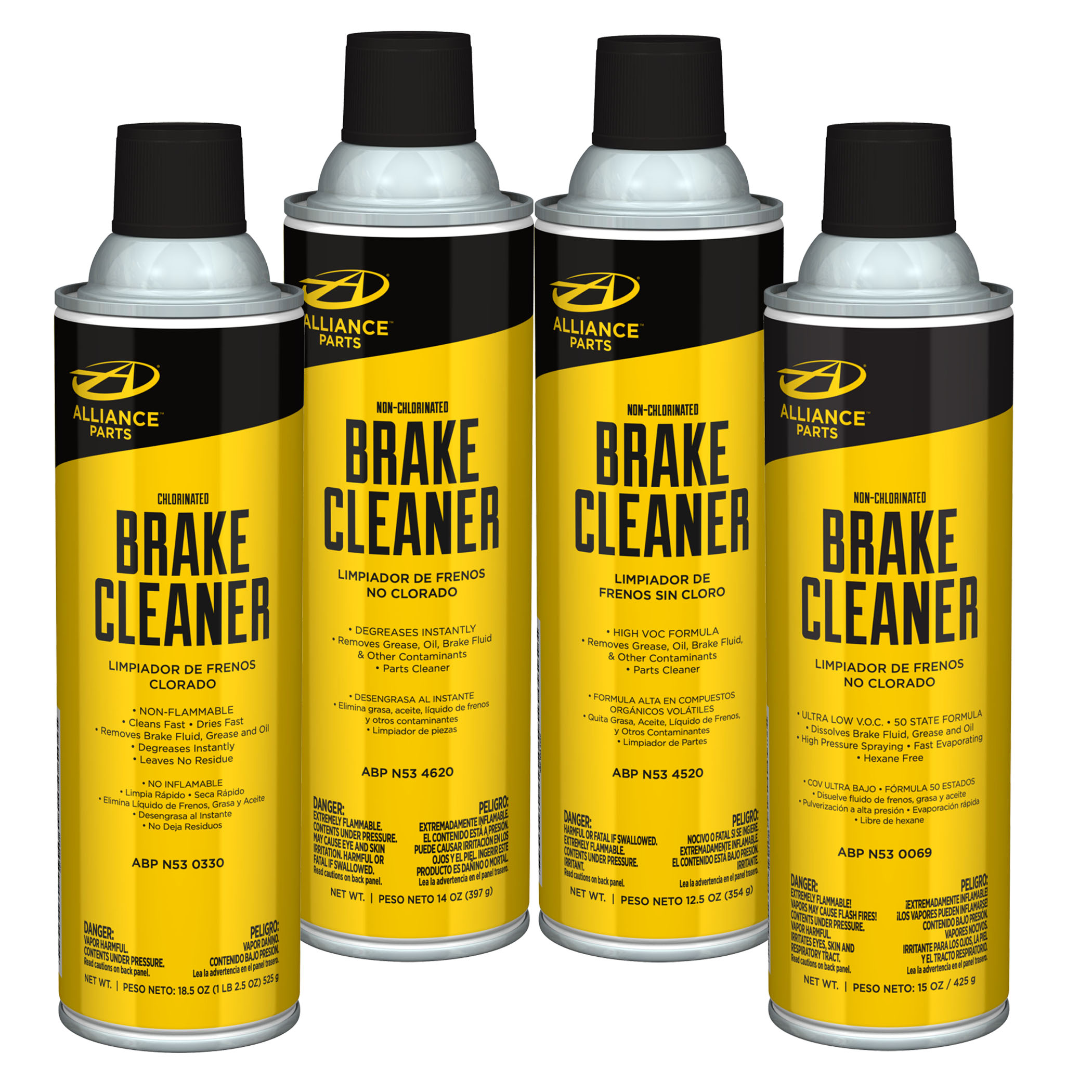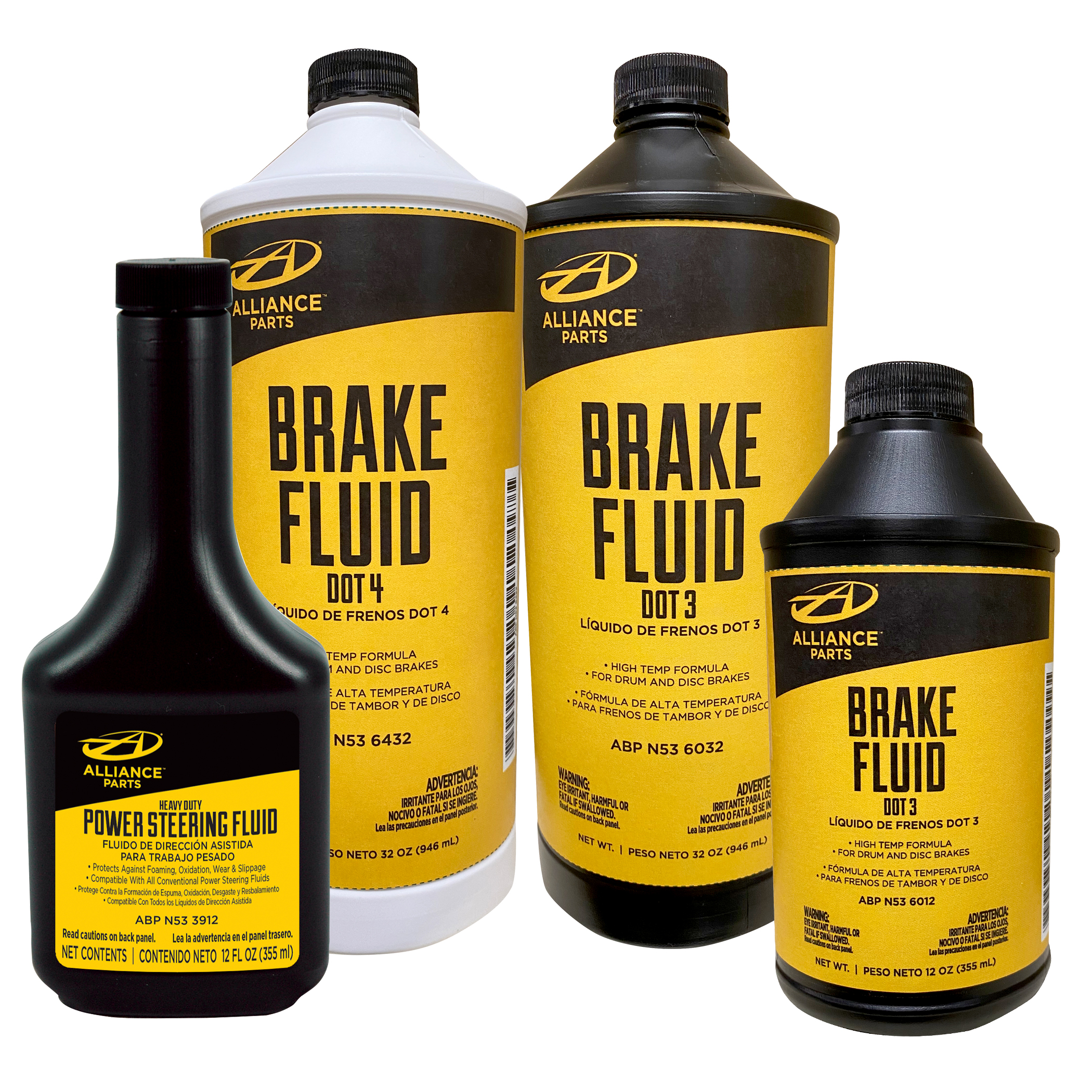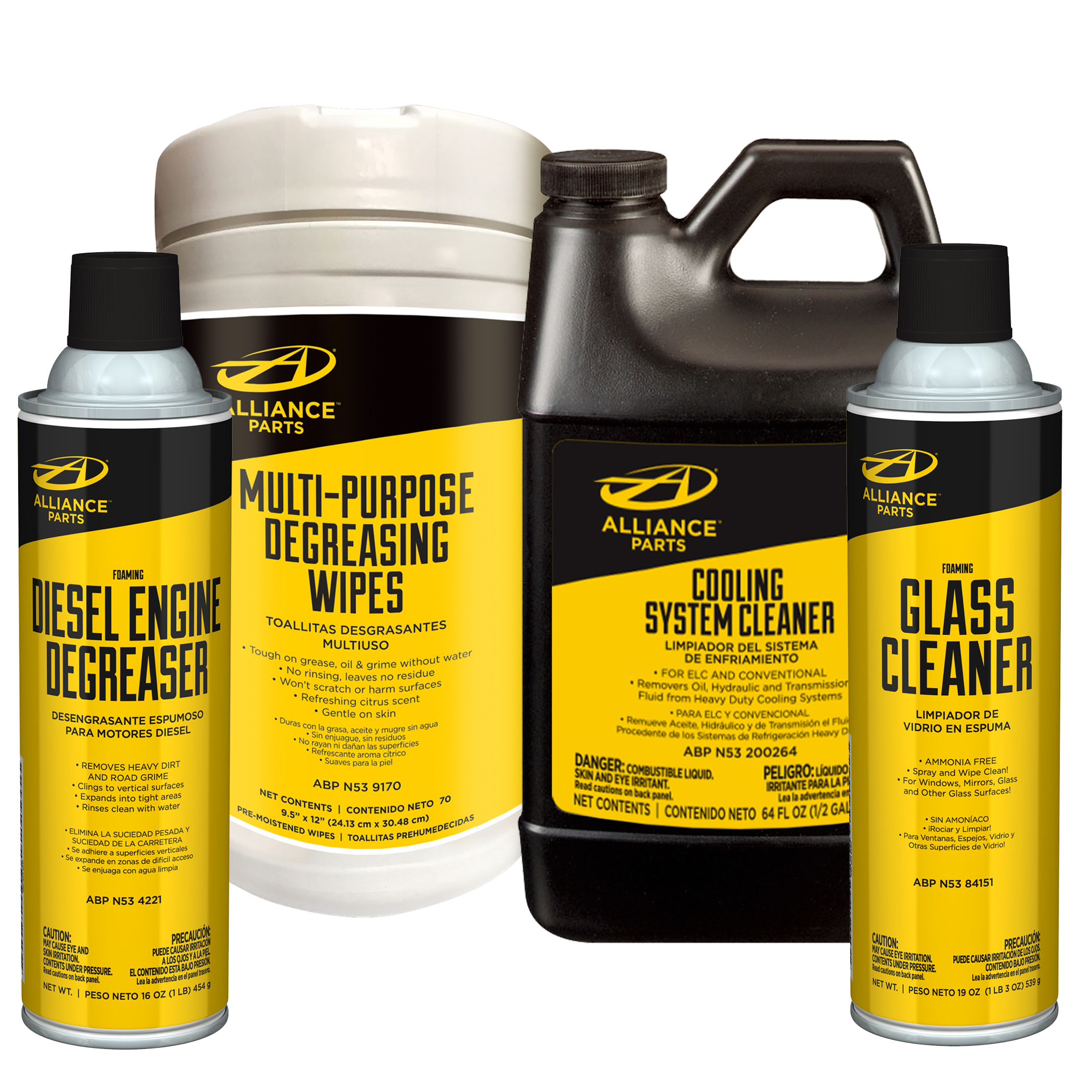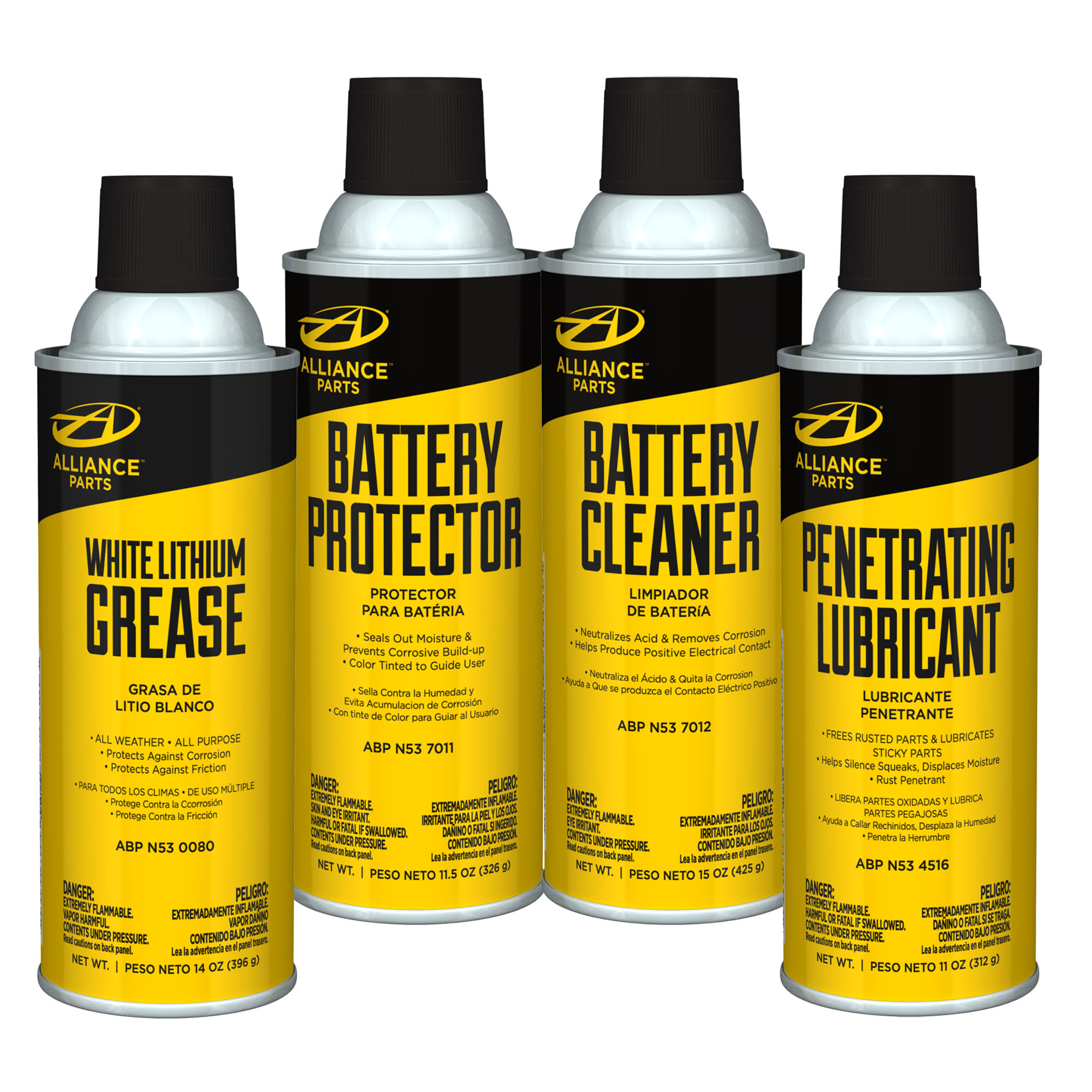 Top Movers - (Insert Product Name)
| Alliance PN | Product | Description |
| --- | --- | --- |
| ABP N53 0069 | 14Oz Nonchlorinated Brakecleaner 10% Voc | 50 State Compliant Low VOC |
| ABP N53 202032 | Winter-Antigel Fuel Additive | Winter Fuel Cold Flow Improver |
| ABP N53 3912 | Power Steering Fluid | Power Steering Fluid Protects Against Oxidation & Sludge |
| ABP N53 4516 | Pr3 Wrench-Eze Penetrating Oil | Lubricant that frees rusted and difficult to remove parts |
| ABP N53 4520 | High Voc Non-Chlorinated Brake Cleaner | Superior Cleaning and Fast Drying High VOC |
| ABP N53 4620 | 14Oz Nonchlorinated Brakecleaner 45% Voc | Superior Cleaning Meduim VOC |
| ABP N53 5315 | 11Oz Premium Starting Fluid | High Ether Content Starting Fluid |
| ABP N53 6432 | Syntethic Dot 4 32Oz Brake Fluid | Synthetic Brake Fluid for High Temperature Applications |
| ABP N53 84151 | 19Oz Foaming Glass Cleaner | Superior Foaming Glass Cleaner Aerosol |
| ABP N53 9170 | Multi-Purpose Degreasing Wipes | Degreasing Wipes Tough on Grease & Grime |
Suggest the following to your customers for additional sales:
System.Web.HttpException (0x80004005): Error executing child request for handler 'System.Web.Mvc.HttpHandlerUtil+ServerExecuteHttpHandlerAsyncWrapper'. ---> System.NullReferenceException: Object reference not set to an instance of an object. at ASP._Page_Views_Partials_Grid_Editors_LeBlender_PartSheetPagePicker_cshtml.Execute() in D:\home\site\wwwroot\Views\Partials\Grid\Editors\LeBlender\PartSheetPagePicker.cshtml:line 34 at System.Web.WebPages.WebPageBase.ExecutePageHierarchy() at System.Web.Mvc.WebViewPage.ExecutePageHierarchy() at System.Web.WebPages.WebPageBase.ExecutePageHierarchy(WebPageContext pageContext, TextWriter writer, WebPageRenderingBase startPage) at System.Web.Mvc.RazorView.RenderView(ViewContext viewContext, TextWriter writer, Object instance) at System.Web.Mvc.BuildManagerCompiledView.Render(ViewContext viewContext, TextWriter writer) at Umbraco.Web.Mvc.ProfilingView.Render(ViewContext viewContext, TextWriter writer) at System.Web.Mvc.ViewResultBase.ExecuteResult(ControllerContext context) at System.Web.Mvc.ControllerActionInvoker.InvokeActionResult(ControllerContext controllerContext, ActionResult actionResult) at System.Web.Mvc.ControllerActionInvoker.InvokeActionResultFilterRecursive(IList`1 filters, Int32 filterIndex, ResultExecutingContext preContext, ControllerContext controllerContext, ActionResult actionResult) at System.Web.Mvc.ControllerActionInvoker.InvokeActionResultFilterRecursive(IList`1 filters, Int32 filterIndex, ResultExecutingContext preContext, ControllerContext controllerContext, ActionResult actionResult) at System.Web.Mvc.ControllerActionInvoker.InvokeActionResultFilterRecursive(IList`1 filters, Int32 filterIndex, ResultExecutingContext preContext, ControllerContext controllerContext, ActionResult actionResult) at System.Web.Mvc.ControllerActionInvoker.InvokeActionResultFilterRecursive(IList`1 filters, Int32 filterIndex, ResultExecutingContext preContext, ControllerContext controllerContext, ActionResult actionResult) at System.Web.Mvc.ControllerActionInvoker.InvokeActionResultFilterRecursive(IList`1 filters, Int32 filterIndex, ResultExecutingContext preContext, ControllerContext controllerContext, ActionResult actionResult) at System.Web.Mvc.ControllerActionInvoker.InvokeActionResultWithFilters(ControllerContext controllerContext, IList`1 filters, ActionResult actionResult) at System.Web.Mvc.Async.AsyncControllerActionInvoker.<>c__DisplayClass3_6.<BeginInvokeAction>b__4() at System.Web.Mvc.Async.AsyncControllerActionInvoker.<>c__DisplayClass3_1.<BeginInvokeAction>b__1(IAsyncResult asyncResult) at System.Web.Mvc.Async.AsyncResultWrapper.WrappedAsyncResult`1.CallEndDelegate(IAsyncResult asyncResult) at System.Web.Mvc.Async.AsyncResultWrapper.WrappedAsyncResultBase`1.End() at System.Web.Mvc.Async.AsyncControllerActionInvoker.EndInvokeAction(IAsyncResult asyncResult) at System.Web.Mvc.Controller.<>c.<BeginExecuteCore>b__152_1(IAsyncResult asyncResult, ExecuteCoreState innerState) at System.Web.Mvc.Async.AsyncResultWrapper.WrappedAsyncVoid`1.CallEndDelegate(IAsyncResult asyncResult) at System.Web.Mvc.Async.AsyncResultWrapper.WrappedAsyncResultBase`1.End() at System.Web.Mvc.Controller.EndExecuteCore(IAsyncResult asyncResult) at System.Web.Mvc.Controller.<>c.<BeginExecute>b__151_2(IAsyncResult asyncResult, Controller controller) at System.Web.Mvc.Async.AsyncResultWrapper.WrappedAsyncVoid`1.CallEndDelegate(IAsyncResult asyncResult) at System.Web.Mvc.Async.AsyncResultWrapper.WrappedAsyncResultBase`1.End() at System.Web.Mvc.Controller.EndExecute(IAsyncResult asyncResult) at System.Web.Mvc.Controller.System.Web.Mvc.Async.IAsyncController.EndExecute(IAsyncResult asyncResult) at System.Web.Mvc.MvcHandler.<>c.<BeginProcessRequest>b__20_1(IAsyncResult asyncResult, ProcessRequestState innerState) at System.Web.Mvc.Async.AsyncResultWrapper.WrappedAsyncVoid`1.CallEndDelegate(IAsyncResult asyncResult) at System.Web.Mvc.Async.AsyncResultWrapper.WrappedAsyncResultBase`1.End() at System.Web.Mvc.MvcHandler.EndProcessRequest(IAsyncResult asyncResult) at System.Web.Mvc.MvcHandler.System.Web.IHttpAsyncHandler.EndProcessRequest(IAsyncResult result) at System.Web.Mvc.HttpHandlerUtil.ServerExecuteHttpHandlerAsyncWrapper.<>c__DisplayClass3_0.<EndProcessRequest>b__0() at System.Web.Mvc.HttpHandlerUtil.ServerExecuteHttpHandlerWrapper.<>c__DisplayClass5_0.<Wrap>b__0() at System.Web.Mvc.HttpHandlerUtil.ServerExecuteHttpHandlerWrapper.Wrap[TResult](Func`1 func) at System.Web.Mvc.HttpHandlerUtil.ServerExecuteHttpHandlerWrapper.Wrap(Action action) at System.Web.Mvc.HttpHandlerUtil.ServerExecuteHttpHandlerAsyncWrapper.EndProcessRequest(IAsyncResult result) at System.Web.HttpServerUtility.ExecuteInternal(IHttpHandler handler, TextWriter writer, Boolean preserveForm, Boolean setPreviousPage, VirtualPath path, VirtualPath filePath, String physPath, Exception error, String queryStringOverride) at System.Web.HttpServerUtility.ExecuteInternal(IHttpHandler handler, TextWriter writer, Boolean preserveForm, Boolean setPreviousPage, VirtualPath path, VirtualPath filePath, String physPath, Exception error, String queryStringOverride) at System.Web.HttpServerUtility.Execute(IHttpHandler handler, TextWriter writer, Boolean preserveForm, Boolean setPreviousPage) at System.Web.HttpServerUtility.Execute(IHttpHandler handler, TextWriter writer, Boolean preserveForm) at System.Web.HttpServerUtilityWrapper.Execute(IHttpHandler handler, TextWriter writer, Boolean preserveForm) at System.Web.Mvc.Html.ChildActionExtensions.ActionHelper(HtmlHelper htmlHelper, String actionName, String controllerName, RouteValueDictionary routeValues, TextWriter textWriter) at System.Web.Mvc.Html.ChildActionExtensions.Action(HtmlHelper htmlHelper, String actionName, String controllerName, RouteValueDictionary routeValues) at System.Web.Mvc.Html.ChildActionExtensions.Action(HtmlHelper htmlHelper, String actionName, String controllerName, Object routeValues) at ASP._Page_app_plugins_leblender_editors_leblendereditor_views_LeBlender_cshtml.Execute() in D:\home\site\wwwroot\app_plugins\leblender\editors\leblendereditor\views\LeBlender.cshtml:line 6 at System.Web.WebPages.WebPageBase.ExecutePageHierarchy() at System.Web.Mvc.WebViewPage.ExecutePageHierarchy() at System.Web.WebPages.WebPageBase.ExecutePageHierarchy(WebPageContext pageContext, TextWriter writer, WebPageRenderingBase startPage) at System.Web.Mvc.RazorView.RenderView(ViewContext viewContext, TextWriter writer, Object instance) at System.Web.Mvc.BuildManagerCompiledView.Render(ViewContext viewContext, TextWriter writer) at Umbraco.Web.Mvc.ProfilingView.Render(ViewContext viewContext, TextWriter writer) at System.Web.Mvc.HtmlHelper.RenderPartialInternal(String partialViewName, ViewDataDictionary viewData, Object model, TextWriter writer, ViewEngineCollection viewEngineCollection) at System.Web.Mvc.Html.PartialExtensions.Partial(HtmlHelper htmlHelper, String partialViewName, Object model, ViewDataDictionary viewData) at ASP._Page_app_plugins_leblender_editors_leblendereditor_views_Base_cshtml.Execute() in D:\home\site\wwwroot\app_plugins\leblender\editors\leblendereditor\views\Base.cshtml:line 51